F.A.Q
How to make payment by Credit Card or Debit Card?
If you don't have a PayPal account and prefer to make payment by Credit Card or Debit Card directly when place an order on our website online,There are two ways of payment. you may follow steps as below:
1. Adding the products you'd like to purchase online and checkout. Follow the steps of purchase, choose "PayPal Checkout" , then click "Credit Card or Debit Card"(VISA,MasterCard,AMEX,UnionPay);
1:It only takes three steps to complete the payment.
1).Click "Check out with Paypal or Paypal Checkout "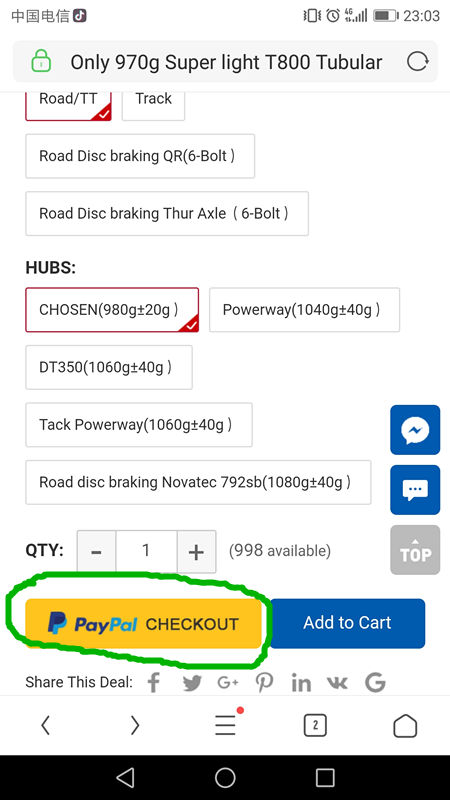 2.)Click"Pay With Debit or Credit Card"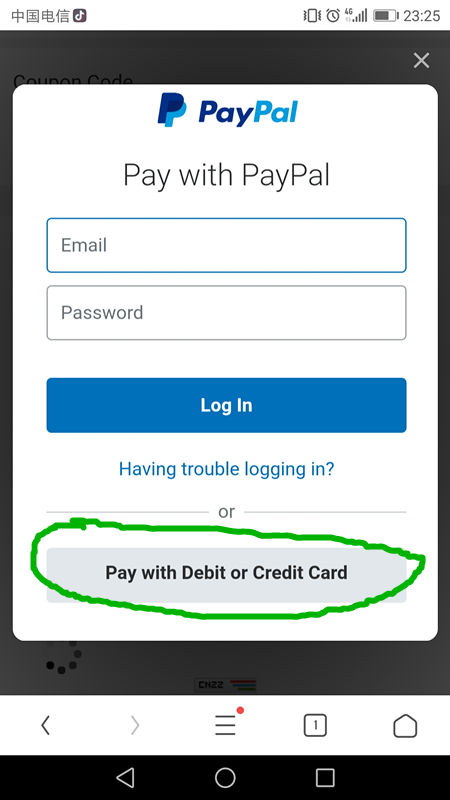 3)Fill in the information in the installation step on this (PayPal Guest Checkout) page, and then click OK.(VISA,MasterCard,AMEX,UnionPay,and Different countries will show different ways of supporting payment.)


2:There are many steps, so it is convenient to add several products to the shopping cart and pay together.

1).There are many steps in this mode of payment.: " Add to Cart"
1.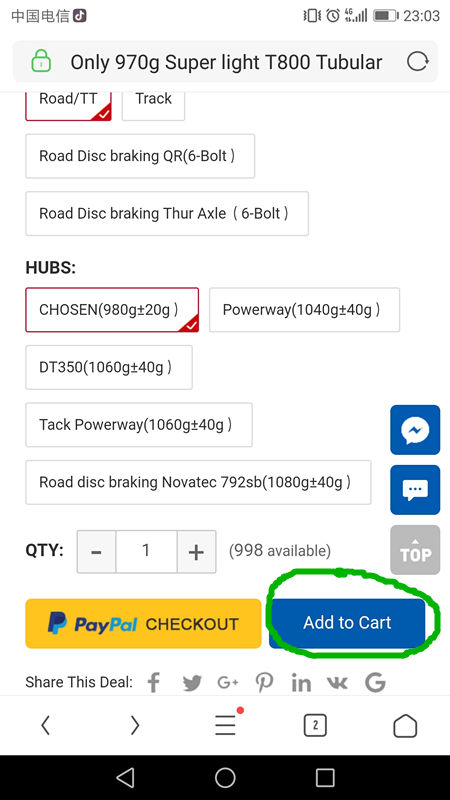 2.Click " Proceed to Checkout"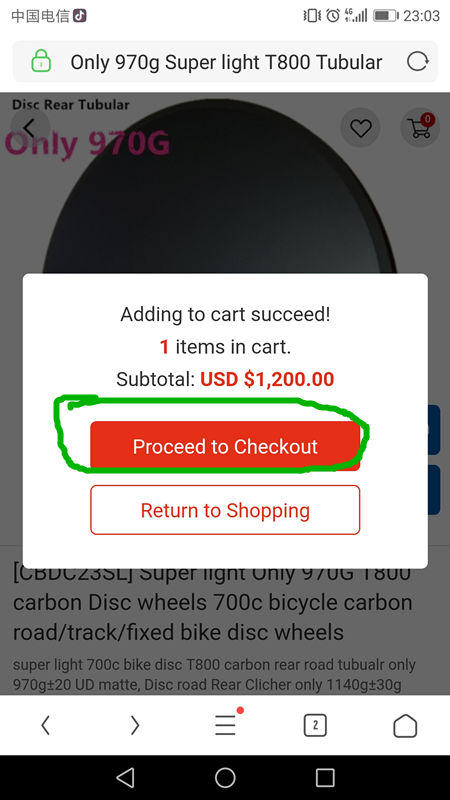 3.Click " Checkout"


4. Payment Method Click "PAYPAL "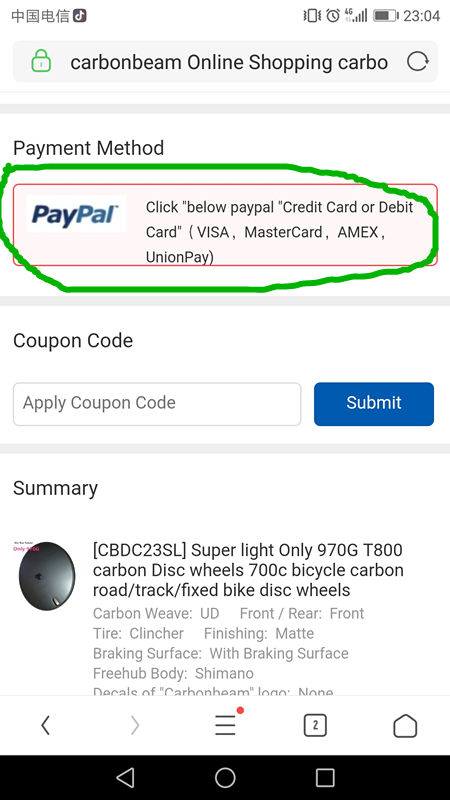 5. Click "Payment in the Green Circle (VISA,MasterCard,AMEX,UnionPay,and Different countries will show different ways of supporting payment.)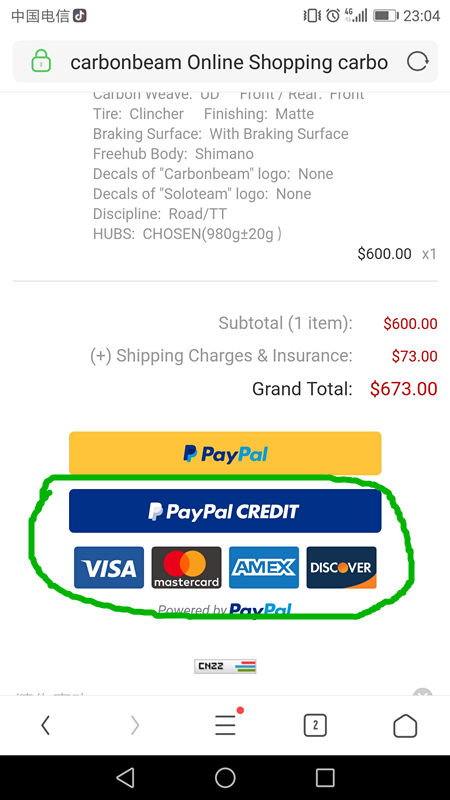 6.You will choose your country, and use credit or debit cards to pay, fill in the installation steps, submit and complete the payment. Thank you.




Bank Reference:
Please contact us, we tell you bank information, thank you.(info@carbonbeamwheels.com)


What is ERD (Effective Rim Diameter)?
ERD, short for Effective Rim Diameter, is the rim diameter measured at the nipple seats in the spoke holes, plus the thickness of the two nipple heads.
It's used to calculate spoke length when preparing to build a wheel.

How much spoke tension should I use?
Although the maximum spoke tension of our rims is 130kgf, we do not recommend to lace your wheelset so intense. Generally, 3 of charging tension are involved in wheel building. Riding comfortability and performance are supposed to be considered while choosing charging tension.
A. Tension for "transportation riders" (Comfortability)
80-90kgf are ideal for regular transportation riders or exercise on a regular basis.
B. Tension for "enthusiast riders" (Balance)
100-110kgf are good for people with enjoyful and training purpose.
C. Tension for "professional riders" (Performance)
120-130kgf are charged for riders who are expertized in riding or competition.
How to place an order?
(1) On our website, click on the product you would like and hit the "Add to cart" button to add to→ Account → your cart.
If you have any questions, please contact us, thank you.
(1) Email: info@carbonbeamwheels.com
sale@carbonbeamwheels.com
warranty@carbonbeamwheels.com
(2) Skype: carbonbeam@hotmail.com
(3) Call us at +86-18965179194
(4)kakao talk: solobicycle
(5)Line : solobicycle
What forms of payment do we accept.
We accept PayPal, L/C, T/T, Western Union and MoneyGram. Paypal is the preferred method of payment and offers extra buyer protection.
Our Warranty?
Please find our warranty statement here: https://www.carbonbeamwheels.com/warranty
Minimum order requirement?
1 Wheelset or 1 rim. For OEM inquiries, please contact us to discuss.
Graphic design on products?
Please e-mail at carbonbeam@hotmail.com to discuss
Is there any riders's weight limitation for your bicycle wheels or rims ?
Yes, there is limited riders weight for our carbon bicycle wheels or rims,
20MM: 90kg
30MM:100kg
38MM:110kg
45MM:120kg
50MM:130kg
58mm:135kg
60MM: 140kg
80MM: 145kg
88MM: 150kg
Carbon Alloy Clincher: 100KG
and if your weight is under the maximum riders' weight, you can feel free to ride on our wheels and gain a very safe and comfortable ridding experience.

If I buy the wheelsets,what would I get with the order?
You will get a pair of free brake pads and a pair of skewers and Valve extender coming with the wheelsets.
What about customs and duties?
All orders are subject to normal import duty, taxes and customs clearance charges in the destination country. International shipping duties and taxes are the customer's responsibility; solobicycle has no control over these charges and cannot predict what they may be. Customs policies vary widely from country to country; you should contact your local customs office for further information. If a customer refuses shipment due to duties and taxes, they will be liable for any costs incurred by solobicycle International.
Is it possible to send the parcel as GIFT with a low value to avoid VAT and custom charge?
Yes,we will mark the parcel as GIFT and write a low value. (sometimes this would not work for the destination to Spain or Danmark,because the Spainish or Dannish customs would require the payments transfer documents for customs clearance,if you can exchange the documents,we will help on marking low value.)

Did you receive my order?
When an order is placed on www.carbonbeamwheels.com, an order confirmation email is sent to your email address which you registered on our website,please pay attention to check your emails.

Can I track my order online?
You may track an order and view the order status and track information in the order history details. Also, once your order has shipped, a Shipping Confirmation email is sent to you with the tracking website and the tracking number. You can use this tracking number to track your order via the carrier's tracking site.Tracking link:
http://www.ems.com.cn/english.html
What is the processing time and delivery time for my order?
solobicycle sticks to the principle of managing every order of our customers at the first time. Normally the processing time is 3-5days, and it takes about 3-10days if the stock running out. As for bulk orders, it would take about 15-25days. We will ship your goods immediately with careful package after the processing time. For small order, the delivery time will be 5-15days, and for bulk order, it will take around 25days (except for special cases e.g. longer customs clearance times/ severe weather and flooding etc.). To calculate the estimated arrival date, add the processing time and the delivery time, and remember to skip weekends and holidays.
How will you package my goods?Is it safe for them to reach me?
solobicycle takes new packing box which is much more stiff and secured. We designed a new box with strong inside structure. It will protect the carbon products from the possible violently throwing and pressure during the shipping progress. Please be rest assured that your goods will reach you in perfect condition and they can be well protected by this new design packing.Therefore,it will be very safe.
Do the products come with manufacturer warranty?
Yes,we offer 2 year quality warranty for the products from our company.
Can I put my logo design or name on wheels or rims?
Yes,we offer customized painting service.